October 26, 2011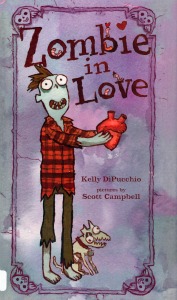 Art © Scott Campbell 2011
Fuzz had the good fortune to meet with Mortimer before he became too busy with his Halloween haunting. Mortimer is the star of Kelly DiPucchio's book, Zombie in Love, illustrated by Scott Campbell and published by Atheneum, 2011. Seeing as Mortimer is in the habit of losing body parts, let's hope he doesn't lose his head before the interview is over.

Fuzz: The book says you are a lonely zombie. What's a zombie?
Mortimer: Let me explain it like this: You are a possum, correct?
Fuzz: Yes
Mortimer: You like to play dead. Is that true?
Fuzz: Yes
Mortimer: Zombies do the same thing, only we aren't pretending.
Fuzz: That's kind of creepy. Anyway, you sure have a lot of weird stuff in your house - a hand candelabra, a brain lamp, and lots of worms crawling around. Do you think a nice plant or two would brighten things up?
Mortimer: Perhaps, but I much prefer a bouquet of crispy, dead roses to a perky, green house plant. House plants are fussy. They make outrageous demands for things like water and sunlight. I can't be bothered.
Fuzz: You wanted to meet a nice girl, so you even read books on how to do that. What's some of the advice you found in the books?
Mortimer: Oh, I found a lot of helpful advice – like how to catch a girl's eye (use a baseball mitt), nibble on her ear (and neck and shoulder), and never, ever spill your guts on a first date.
Fuzz: When you were working out in the gym, your arm fell off. How did you get it back on?
Mortimer: Duct tape, of course!
Fuzz: I hope the duck didn't mind. Well, you finally met Mildred. What does love feel like?
Mortimer: Love, my fuzzy friend, feels wonderfully warm and mushy, like a hearty helping of fresh brains. Which reminds me, I must be on my way. Its lunchtime and my beloved Mildred and I are going out for a bite to eat. Would you like to join us?
Fuzz:I guess it depends on who you plan on biting. HAR! Get it? I made a joke.
Dori: [Psst! Say thank you, Fuzz.]
Fuzz: Thank you, Fuzz. (And thanks Mortimer and Kelly DiPucchio!) Happy Halloween, everyone!

Note: All answers are given by either the author or illustrator of the interviewed character. While Cork and Fuzz have an endless supply of questions, they rarely have any answers. They're not all that smart.
_____________________________________________________
October 12, 2011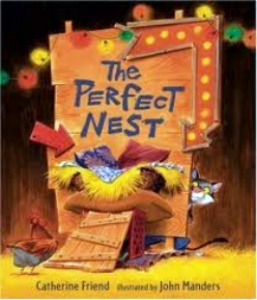 Art © by John Manders 2007
Cork hurries to his interview with Jack, the cat with the starring role in Catherine Friend's
The Perfect Nest
, illustrated by John Manders, Candlewick Press 2007. Liking things to be perfect as well, Cork is always eager to hear of others' attempts at perfection. There's always something new to learn, right?
Cork: I never met a cat wearing overalls before. Where did you buy them and do they sell overalls for muskrats?
Jack: These are overalls just for cats. I buy them at the Farm Cat Store. Because cats are the most special animal on the planet, we get really cool stuff that muskrats don't get. Sorry.
Cork: You went through a lot of work to build a perfect nest to get an egg for an omelet. Why didn't you just eat cereal?
Jack: The farmer selfishly keeps all the cereal in her house. But that's okay. Eggs are better for you. I need lots of protein to keep my strength up as I do important cat stuff, like sleep in the sun, and sleep in the shade, and stretch a lot.
Cork: Would you please give us your recipe for your favorite omelet?
Jack: Wait until the middle of a hot day. Find one egg. Crack the egg open onto the hood of the farm truck. Mix in three catnip leaves and one mouse tail. The hood will be so hot it'll cook the omelet in less than a minute. Mmmmm.
Cork: You did a lot of funny things, trying to get the fowl off the nest. You yelled, "Fire!" You yelled, "Flood!" You yelled, "Wolf!" Did you try other things that aren't in the book?
Jack: I tried yelling "The sky is falling, the sky is falling," but that didn't work. Guess they'd heard that already. I tried yelling, "I am a huge, fierce cat and I am going to eat you," but they laughed at me. This proves that birds are not as smart as people think.
Cork: What was your most embarrassing moment in this story?
Jack: I am known in the neighborhood as a tough guy, so when I climbed into the nest with those three little babies, I did worry about my reputation for a second. Luckily the other cats can't read. They have, however, noticed I'm followed everywhere I go by a chicken, a duck, and a goose. I tell them that the birds are my fan club. They think that's cool.
Cork: I think you're lucky, Jack. It seems to me that having little baby birds is much better than having eggs. Thank you for talking to me! (And thank you, Catherine Friend!)
____________________________________________________
September 7, 2011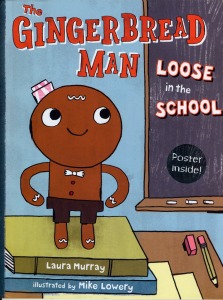 Art © Mike Lowery 2011
This is Cork's first interview with a cookie. Well, not exactly a cookie, but a gingerbread man from Laura Murray's brand new book, The Gingerbread Man Loose in the School, illustrated by Mike Lowery, G.P.Putnam's Sons, 2011. Fuzz wanted to do the interview, but... we all know Fuzz has a sweet tooth, and well... I don't think we need to sink our teeth into that outcome.
Take it away, Cork!
Cork: You had a very unusual beginning. You weren't actually born. The children mixed up a bunch of sweet things and baked you. At what point did your brain start to work?
Gingerbread Man: I just remember feeling all warm and cozy, puffing up on a pan. I could even wiggle my fingers and my toes. Then I heard a "DING" and all of a sudden a hand pulled my pan from the toasty oven. I looked around the room at all the smiling faces and thought, "What a busy, fun-looking place - I want to stay!" Besides the yummy candies, I think one of the sweet ingredients I must have been made with, was love. It seems like a little bit of love can help anyone come alive!
Cork: The class left you behind when they went to recess. What's recess?
GM: At first, I didn't know what in the world recess was. But if the class wanted to go, then I wanted to go too. Later on, I finally found out that recess is this awesome time of the day when everybody gets to play outside. We can climb, swing, run, skip, play ball, and play games. Our teacher says that recess is a good place to get all our wiggles out. Except, I usually have a few wiggles left over that escape in the classroom too.
Cork: When you were running after your class, you got stuck to the side of a ball. What did it feel like to roll around the school?
GM: Have you ever done something that was fun and scary at the same time? Rolling over and over with a ball was super fun, but my cookie toe getting lost along the way was a little bit scary… because I like my toes and I want to keep them. Luckily, the school nurse knew just how to fix me up! She had a special bandage that stuck even after a few crumbs jumped on it too.
Cork: When you ended up in the art teacher's lunch bag, weren't you afraid he might eat you?
GM: Oh, yes! When I looked up and saw those two big eyes looking down at me, I thought I was a goner. But the art teacher was one smart cookie too; he knew I was more than just a sweet treat. Thank goodness!
Cork: Can you tell us a good cookie riddle?
GM: What does a Gingerbread Man put on his bed?
Cork: I give up. What's the answer?
GM: A cookie sheet! Ha!
Cork: Hahahahaha! I'll tell that one to Fuzz!
GM: Thanks so much for chatting with me Cork! You are a good buddy!
Cork: Thank you, Gingerbread Man. And thanks to Laura Murray! But before you go, what's a cookie sheet?
_______________________________________________________________
August 24, 2011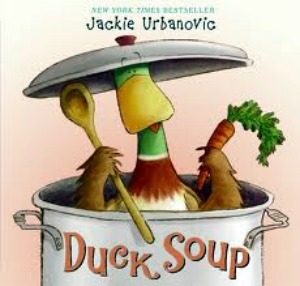 Art © Jackie Urbanovic 2008


Cork is excited to meet Max, the culinary duck from Jackie Urbanovic's delightful book,
Duck Soup
, HarperCollins 2008. To Cork's surprise, Max arrived with a few friends, who were eager to meet Cork and insisted on tagging along.

| | |
| --- | --- |
| | |
The more the merrier! So, settle down, everyone, and let's get started!

Cork: Max, where did you get your passion for soup making?
Max: JULIA CHILD! Once I tasted her French onion soup I was hooked. Tasty, tasty, tasty! I'd eaten wild onions before but nothing like this! AND MELTED CHEESE! We never had that in the wild. Ooh, la la!
Jessie Bear: Remember how that stringy cheese got wrapped all around your beak? Hee, hee, hee.
Cork: Oooo... that must have been a sticky situation. Max, what's the worst soup you ever made?
Max: My soups are brilliant. None of them turned out---
Scrappy: Oh, yeah, right.
Dakota: How about the Cracker Barrel Cheese and Marshmallow soup??
Bebe: OOOOH, YEAH, that was a REAL winner!
Jessie Bear: Or that soup with curry and lemon? Or the jelly bean gumbo?
Scrappy: HAHAHAHAHAHA----STOP! STOP! My sides hurt!
Max: HEY! This is MY interview!
Cork: Right, Max! If you had met Julia Child, what would you have asked her?
Bebe: How to cook?
Max: STOP IT, YOU GUYS! I would ask her---
Brody: How to STOP cooking?
Max: How to bake DOG! How to fricasee PARROT and broil CAT!
Cork: Uh-oh. Let's be civil. Max, you were making your very own soup creation. What were you planning on naming it?
Max: DON'T EVEN THINK OF SAYING IT, SCRAPPY! I was going to call it Max's Supremely Delightfully vegetable-y soup.
Cork: Could you make up a soup recipe for me using things I can find at my pond?
Max: Of course! First start with some wild onions. They're easy to find in shady places along riverbanks. Fry them gently then add water and a bit of fish.....or maybe some worms? No--algae! Algae would add nice color and texture. Then add in the tender stalks from cattails. You could even serve your soup in clam shells! As Julia says "Be fearless and have fun."
Scrappy: Oh yeah, right. Fresh algae. Love it.
Brody: Now, now... as Julia says "Be fearless!"
Dakota: No, no, no! When Max is cooking be afraid! Be very afraid!
Bebe: HaHaHaHaHaHaHa! You're a real corker! Get it? CORK-er!
Max: Excuse me, Cork, but I need to get my big soup spoon and use it to chase my crazy family out of here.
Brody, Scrappy, Dakota, Jesse Bear, Bebe: OOOOOOH! Look out!
Max: Thanks for talking to me, Cork! See you later!
Cork: Thank you, Max! (And Jesse Bear, Scrappy, Brody, Dakota, Bebe, and
Jackie!) I will try your soup recipe, Max. Someday. But now I think I need to lie down for awhile. We'll look forward to reading more of your adventures in your other books, like this one!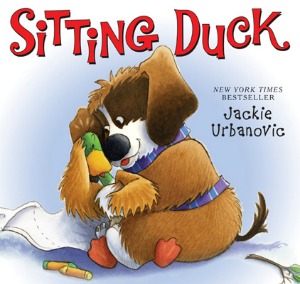 _________________________________________________________
July 20, 2011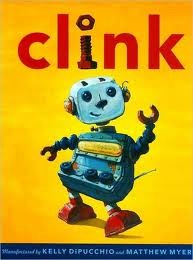 Art © Matthew Myer 2011


Fuzz would never have guessed that one day he'd interview a machine. But that's just what he's doing today. He's talking to
Clink
, a pleasant little robot from the book by the same name, written by Kelly DiPucchio, illustrated by Matthew Myers, HarperCollins Children's Books 2011. Bring a spare oil can if you have one and join us!
Fuzz: You are a robot who plays music and makes toast. You were made in 1939. Do robots turn gray like people who are your age?
Clink:
Most new robots are manufactured shiny and gray.

As they age, they often develop flattering shades of rust.

My eyes compute that you are fuzzy and gray.

Are you a newer model of possum or an older one?
Fuzz: I'm pretty old. I'm six! Have you ever met the Tin Man? And if you could, what is one question you'd ask him?
Clink: My memory board indicates I have never met the Tin Man. However, further data suggests we were both built in 1939. If I could ask the Tin Man one important question, I would ask him if he prefers white, wheat, or rye.
Fuzz: What was it like to live in a robot shop?
Clink: I processed many happy times in the robot shop. I had multitudes of friends there. Zippy, Blade, and Penny were my best friends, but I had other friendly acquaintances like Millibot, Gort, and the Granny Kisser.
Fuzz: What do robots eat for breakfast?
Clink: Different models ingest different materials. I am a vintage "Toast 'n Play", manufactured by Roboco, so I always start my day with a stack of toast and a large cup of motor oil.
Fuzz: Of all the music you play, what are your favorites, and what song did you play when the boy took you home with him?
Clink: I have been programmed to play polkas and swing numbers. I played my favorite song for the boy, Milton. The song is called Roll Out the Barrel. Humans enjoy the tune very much. I think life forms like possums and muskrats would derive much pleasure from the song as well.
Fuzz: I would like to roll the barrel! I'll put Cork in it first, then roll it down that hill! Thank you, Clink. Thank you, Kelly! Cork! Come here! I have a plan!
_______________________________________________________
July 6, 2011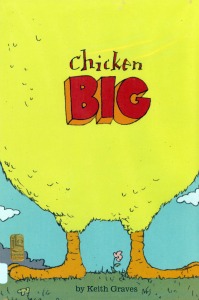 Art © Keith Graves 2010
Cork is used to seeing little fluffy chicks no taller than his knees, so it's an unusual experience to meet a big humongous fluffy chick who towers high over his head. Being careful not to be stepped on, Cork interviews Big Humongous Chick from Keith Graves' laugh-out-loud book Chicken Big, Chronicle Books 2010.
Take it away, Cork! (The interview, not the chicken.)
Cork: When you were a baby chick you came out of an egg. Do all babies come out of eggs? Did I come out of an egg?
Big Humongous Chick: I am pretty sure all chickens come from eggs, but I don't think elephants do. I think they come in big wooden boxes. You should ask your mom if she remembers whether or not you came from an egg.
Cork: But I'm not an elephant, I'm a muskrat. The smallest chicken thought you were an elephant. Didn't she know that elephants aren't yellow and cute?
BHC: Do you mean elephants aren't yellow and cute? Huh.
Cork: You ate the acorn that fell on the smallest chicken's head. I've never had an acorn. What do they taste like?
BHC: They taste sort of like worms, but crunchier.
Cork: When it started to rain, all the chickens ran for their lives. Why were they afraid of rain. Rain is nice.
BHC: The rain came on a Tuesday. The flock only takes baths on Saturdays.
Cork: This story is sort of like Chicken Little, but much funnier. Have you ever met Chicken Little?
BHC: Actually, the smallest chicken in my story is an awful lot like Chicken Little. Hint, hint.
Cork: Right. Like, he wasn't the sharpest egg in the carton. Thank you, Big Humongous Chick! Thank you, Keith Graves!
(Hey, readers! Go get this book!)
_____________________________________________________
June 22, 2011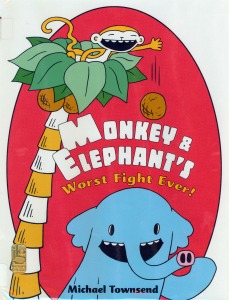 Art © Michael Townsend
While Fuzz has never had a serious fight with Cork, he's fascinated to hear from someone who has had such a fight with a best friend. So, with notebook in paw, he's meeting Monkey from Michael Townsend's new book
Monkey and Elephant's Worst Fight Ever
, Alfred A. Knopf 2011. Welcome Monkey! [Elephant will be staying home today.]
Fuzz: You and Elephant are best friends, then you got into a fight and did all sorts of funny things to each other. Was it fun?
Monkey: In the moment it was fun... Like when I painted a face on Elephant's rump I was totally enjoying myself but after that I still felt hurt and angry.
Fuzz: How did you and Elephant become best friends in the first place?
Monkey: Well, it's a long story that involves seven apple pies, an oak tree, four baby opossums and a mud pit but Elephant has asked me to never speak of that day again...
Fuzz: You helped Elephant collect smells for his smell collection. What's the best smell you collected? What's the worst one?
Monkey: The 'Worst Smell' and the 'Best Smell' happen to be one and the same! We captured it on a dark and stormy night when our friend Mr. Dog got all wet and then a skunk sprayed him... It was a horrible smell to begin with but then we decided to see if we could make it worse. So, we asked him to eat an onion and hold a few fish (Elephant's dinner) under his arms... He was a good friend so he did what we asked. It was an amazing yet horrible smell that to this day is my most cherished possession. Mr. Dog had to shower for seven days straight to get rid of it... and Elephant could not eat his fish.
Fuzz: One time Cork got mad at me and called me a beaver butt. What would be some good names to call the person you're mad at?
Monkey: Lately, I have been using a formula for my name calling... It involves repeating, repeating, repeating, and then adding the word 'pants' and the letters 'Mc' to any words you can... Here are some examples... If somebody is stinky I would say, "You sir, are a Stinky McStinky Pants" If somebody has been rude I would say, "You sir are a Rude McRude Pants" It works for now but I like to invent new formulas all the Mctime.
Fuzz: When you and Elephant finally made up, all your friends yelled, "HUZZAH!" What does HUZZAH mean and when would it be a good time to say that?
Monkey: I don't know what Huzzah means but my friends and I love to yell it when something good happens and it just kinda caught on... I personally would prefer that we yelled something like, "TOILET!!!!" Or, "Hairy Armpits!!!!" whenever something good happens but sadly this never caught on... although I did try for a while.
Fuzz: Well, I like HUZZAH. HUZZAH! for Monkey! HUZZAH! for Elephant! HUZZAH! for Michael Townsend! (And thank you!)
_
___________________________________________________

June 1, 2011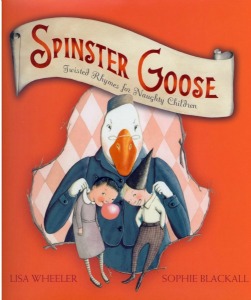 Art © Sophie Blackall 2011


Cork is on his best behavior when he interviews Spinster Goose. He's heard that she's a very strict, no-nonsense old bird who often travels with a paddling board. She comes straight from Lisa Wheeler's book, Spinster Goose: Twisted Rhymes for Naughty Children, illustrated by Sophie Blackall, Atheneum Books 2011. Fuzz has wisely decided to stay clear of this interview.


Cork: Why did you start your school for naughty children?

Spinster Goose: While visiting my sister, Mother Goose, I noticed that some of the children in her care were completely villainous! Knowing that she is far too kind to punish the little brats. . . excuse me. . .what I meant to say is that she is much too gentle to give the misguided children the structure that they crave, so I opened my school for the little darlings.

Cork: How would you deal with a child who makes loud slurping noises when eating his soup?

Spinster Goose: At Spinster Goose's School, the children are never served soup. Soup is too sophisticated for those messy little urchins. Actually, I find that green gruel is much better suited to their needs. Mr. and Mrs. Sprat make the gruel thick and lumpy so it cannot be slurped. One must chew it. Problem solved.




Cork: Is it bad manners for a possum to burp when he's done eating?

Spinster Goose: No bodily functions are allowed at my school! Show me who this possum is and I will deal with his insubordination directly!

Cork: Well, maybe the possum could be your mascot. Does your school already have a mascot?

Spinster Goose: We had one once. Unfortunately, he misbehaved.




Cork: Oh! That's not much fun to think about. Just one more question. What should I do if someone calls me a bad name?

Spinster Goose: Do you mean like Percival or Mergatroid? Those are two horribly bad names! But your name is Cork. Speaking of which, is Cork actually a name? I thought a cork was something that stops up a bottle and floats on water. Perhaps Cork is short for Cornelius or Coriander? Hmmm. . .I shall have to give you a proper name. Come to my office at 3 pm –Sharp! Tardiness will not be tolerated.

Cork:

Fuzz! Where are you? I'm coming to find you!

Spinster Goose: Just one minute, young man! Have you forgotten your manners?

Cork: Oh. Sorry. Thank you, Ms. Goose. (And thank you, Lisa Wheeler!)

_______________________________________
May 9, 2011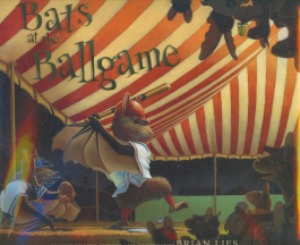 Art © Brian Lies 2010

Little Bat's Grandbat brought him for the interview with Fuzz to talk about the story Bats at the Ballgame, written and illustrated by Brian Lies, Houghton Mifflin 2010. With Fuzz comfortably sitting on a big rock and Little Bat hanging from a nearby tree branch, let's play ball!

Fuzz: Why doesn't your baseball cap fall off when you hang upside down?
Little Bat: I didn't actually get a baseball cap until my Grandbat gave me his, after we won. It probably WOULD have fallen off! The slits in the sides of caps grip big bats' ears, and there's something scratchy lining them which seems to hook onto fur. My ears are too little to hold a cap on, unless my head's right-side up. But I did see somebody else's cap fall off during the exciting parts of the game. It fell onto the field, and he had to fly down and get it. Everybody yelled and laughed at him!
Fuzz: Your grandbat bought you some snacks at the game. What does a mothdog taste like? What kind of prize did you get in your box of Cricket Jack?
Little Bat: Mothdogs are the BEST! They're a little dusty on the outside, and kind of creamy on the inside. I brought some here to this interview—want one? My Cricket Jack prize was really cool—I got a pocketknife with two blades, a screwdriver and a magnifying lens. I hear that humans' Cracker Jack prizes are really boring—just pieces of paper with stuff printed on them!
Fuzz: When a batter bat bats the ball with the bat and flies around the bases, does he have to touch down at each base?
Little Bat: [swallows a bite of mothdog] Of COURSE a base-flyer HAS to touch the base as he or she flies past, or his run doesn't count! My Grandbat says is that's one of the toughest things about base-flying: timing wing-flaps to be on a down-beat as you go by. Otherwise, you've got to loop back and touch the base, and might not have enough time to go on to the next one.
Fuzz: In the seventh inning stretch everyone sang the famous bat-ball song, "Ohh... hang me up in the rafters. Hang me up by the toes! Buy me some beenuts and Cricket Jack..." What's the rest of the song?
Little Bat: The next line is "I don't care if I never fly back," but I'm not supposed to tell you the rest of the song. It's a bat thing. Besides, most humans know only the chorus to THEIR version of the song, not all the rest of the stuff about Katie Casey being baseball-mad. So I don't think they'd bother to memorize anything else I told you.
Fuzz: It was the final out, with two bats down and one on first. If the pitcher was a southpaw, do you think the runner would lead off, or hold tight and hope the batter goes yard?
Little Bat: Whaa?!? This was my very first baseball game! I've got NO IDEA what you're talking about!
Fuzz: I don't either, Little Bat. I just made that stuff up because it sounded good. I don't know anything about baseball.
Little Bat: In any case, I don't think the pitcher WAS a southwing. . .
…did I say that I really like mothdogs? I still have this one here. Want it? Mfrurph. . .[chomps on the remains of his mothdog as he holds the other one out in one wing].
Fuzz: Mfuruph.... [Fuzz chomps on the offered mothdog with a happy sigh.]
Thanks, Little Bat! That was de-liscious! [And thank you, Brian Lies!]
______________________________________________
April 25, 2011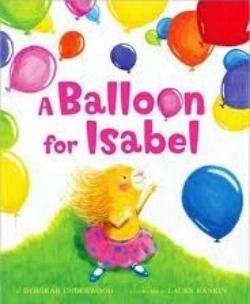 Art © Laura Rankin 2010
Fuzz meets Isabel, an inventive and charming little porcupine who is able to teach Fuzz a few good tricks! From
Deborah Underwood
's book,
A Balloon for Isabel
,
illustrated by
Laura Rankin
,
Greenwillow Books
2010. Whether or not Fuzz will now be inspired to solve his own problems remains to be seen.

Fuzz: The raccoons, the skunks, the rabbits, and all the kids in your class were going to get balloons for graduation. But your teacher said that you and the other porcupine kids couldn't have balloons because your quills would pop them. What's so special about balloons anyway?
Isabel: EVERYTHING'S special about balloons! They're colorful and shiny and they do all sorts of things. They float. They thump on the ceiling. They hang in the air. After a few days, they shrivel up under your finger wherever you touch them. I thought everyone liked balloons! Don't you like them, Fuzz?
Fuzz: I think I would like them. I've just never had one. What's a graduation?
Isabel: It's when your family comes to school and you put on a blue hat (no pulling your neighbor's tassel) and you march in a line (no pushing) and you sing a graduation song (no yelling or slouching) and you get a balloon and then you're not in kindergarten anymore. Frankly, I find it all a bit puzzling.
Fuzz: I like the balloon part. Can balloons be made out of something that wouldn't pop? Like wood, or French fry wrappers?
Isabel: That's a good idea! Wood might be tricky, because if the balloon fell out of the air, it could bonk you on the head. But if you have a lot of French fry wrappers, let's try it. At least the balloons would smell good.
Fuzz: Your friend Walter always brought candy for lunch. What does candy taste like?
Isabel: It's yummy! Sometimes it's chewy and chocolaty, and sometimes it's hard and smooth. But it's always sweet. The nice thing about pop-proofing your quills with gumdrops is that after your balloon shrinks, you get to eat the gumdrops. That cheers you up.
Fuzz: I like the gumdrop part. You had a good idea on how you could get a balloon for graduation. Do you have any good ideas on how I can get some of Walter's candy?
Isabel: Just ask him! He has so much candy, he doesn't know what to do with it. But if you want to be extra-nice, offer him some broccoli in exchange.
Fuzz: Broccoli? That's a veggie, isn't it? That's Cork's department. I'll ask him if he could give Walter some broccoli. Meanwhile, I'll just wait for the candy.
Thank you, Isabel! Thank you, Deborah Underwood!