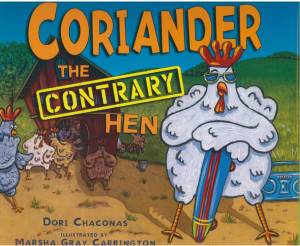 Art © 2007 Marsha Gray Carrington

Book Flap Copy: Coriander is NOT like all the other hens. When Farmer Bucket says, "Go! Coriander stays. When Mrs. Bucket says, "Stay!" Coriander goes. Coriander is a very CONTRARY hen. When this stubborn h en decides to sit down in the middle of the road, traffic grinds to a halt. But no amount of honking and hollering will do any good.
Coriander has a mind of her own and her mind's made up---she's not going anywhere! Until young Fanny Bucket comes up with a way to outsmart this contrary hen...
Behind the scenes: As a child, I visited my grandparents' farms with my family and one of the things I learned to do was to collect hens' eggs each day. Most were in the hen house, but there were a few contrary hens who'd lay their eggs in less obvious places--in the machine shed, or a cow stall, or tucked into the tall grass beside a fence post. It was a challenge to find them, and on more than one occasion a stubborn hen would scare me half to death by coming after me!
Kirkus: A hardheaded hen plumps down in the middle of the road and brings traffic to a screeching halt in this rhythmic rural ruckus. Thoroughly used to doing just what she's told not to, Coriander settles in on a pile of grass with a "Coop and Garden" magazine—which, in the cartoon illustrations, is joined by a dish of candy, an umbrella, sunscreen, a radio and other leisure gear as the tale goes on—and despite plenty of scolding, refuses to give way as trucks, cars and even a school bus pile up. Featuring as a crowd-pleasing refrain variations on "With a ruffle of her feathers / and a sharp look in her eye, / Coriander cackled a discourteous reply, / CLUCK CLUCK TRUCK!," Chaconas' text is paired to hilarious views of a small hen with a big red comb and an even bigger attitude. Ultimately persuaded by a bit of reverse psychology from a canny lass ("Do NOT get out of the road"), Coriander finally swaggers back to the henhouse to roust out its occupants and construct a cushy new nest. Admirers of Anita Jeram's Contrary Mary (1995) will find Coriander an even tougher bird.
School Library Journal –When Coriander is told to "go," she stays; when she is requested to "stay," she leaves. One day, she decides to relax in the middle of the road, blocking traffic as she pauses to read her magazines. The hen just won't listen to reason. As a traffic jam ensues, a young girl uses some reverse psychology to remedy the situation. Coriander retires back to the henhouse, but she continues to show attitude toward the other chickens there. Although it appears that she is rewarded for resisting positive suggestions, children will be able to relate to her and may even want to talk about their own "Coriander days." Cartoonlike paintings–in one scene, Coriander wears reading glasses–add humor to the text. Choruses of repeated rhymes–"Cluck cluck duck," "Cluck cluck truck"–will perhaps bring participation to this tale.–Blair Christolon, Prince William Public Library System, Manassas, VA
Library Media Connection

Starred Review
Children of all ages will delight in this rollicking tale of a very stubborn hen. Coriander plops herself down right in the middle of the road, and nothing Farmer Bucket says or does will convince her to move. Traffic screeches to a halt with a cacophony of tractors, cars, trucks, and buses. The more everyone begs and pleads, the more stubborn Coriander becomes. As with many of the most appealing picture books, the perfect solution is found by a youngster. "You just stay right there. Do NOT get out of the road," Fanny commands. Of course the stubborn Coriander stays true to her nature and promptly moves. The contrary hen gets the last laugh when she moves from the middle of the road, and proceeds to take over the henhouse. Young children will readily identify with the creative heroine and rejoice with the simple solution. This well-written humorous story will be a wonderful addition to a story hour collection. It's a great read-aloud certain to be enjoyed by youngsters and adults alike. The colorful and amusing illustrations and lively text combine with plenty of humor to make this book a truly enjoyable and special experience! Highly Recommended. Kathy Kibler, District Media Specialist, Black River Local Schools , Sullivan , Ohio